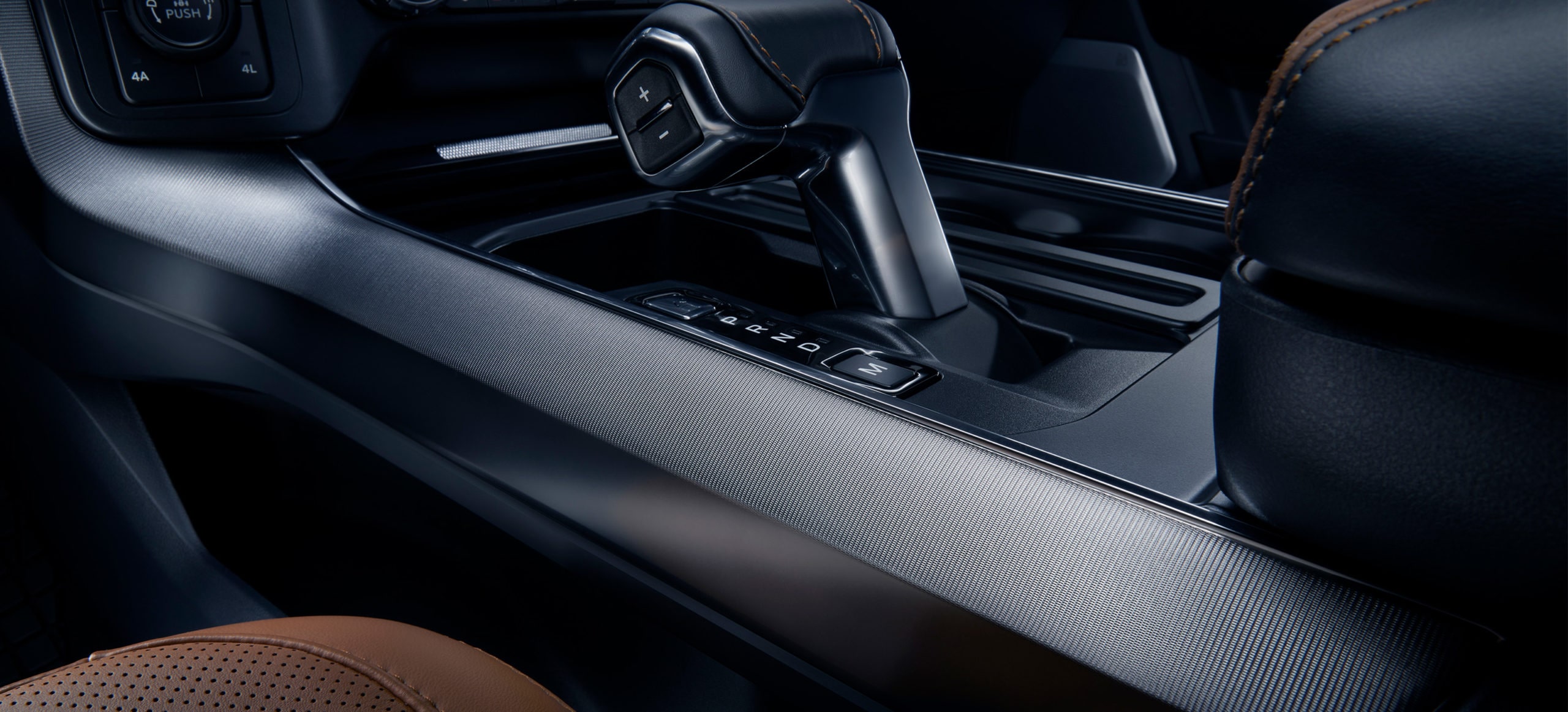 "…the F-150 interior (is equal) to a luxurious Bentley Mulsanne that starts at $310,000."
— The Detroit Free Press June 2020
Our Plastic Plate division continually strives to push the boundaries of what is possible. When Ford came to us to develop interior components for the all-new 2021 F-150, we were determined to far exceed their expectations. Our collaboration yielded some of our most ambitious interior décor work to date. From finishing to molding, the results are exquisite.
SEVERAL DISTINCT TRIM LEVELS One Shared Vision.
Our Plastic Plate division created interior décor trim components for the F-150, including its premium Lariat, King Ranch, Platinum and Limited trim levels, as well as the Raptor and Tremor editions.
Premium finishes included:
13 décor trim components  //  7 Tessera® textures  //  7 Spinelle™ colors //  2 plating surfaces
Great Design is in the details
Plastic Plate collaborated with Ford Design, Design Quality and Color & Materials team to establish the appearance and tactile feel Ford desired. With Spinelle™ translucent tints over chrome-plated surfaces, Ford design could modify colors quickly to harmonize each model's color palette individually.
The ability to engineer highly detailed 3-D Tessera® textures directly onto surfaces of the all-new F-150's interior components delivered stunning outcomes. Pattern design, precision depth, scale, orientation, placement, and edge control were all completely customized to achieve the desired look and feel.
Use the slider to view component variation.
THE SHAPE OF PRECISION
The Tessera® algorithm applies and manipulates each pattern across all 3 dimensions to accurately reflect part geometry.
THE POWER OF CUSTOMIZATION
Lacks enabled Ford to create multiple uniquely designed surface textures for each trim component while using the same tooling mold, which generated millions of dollars in savings.
THE MEASURE OF CONSISTENCY
From the design process through molding , plating and finishing, Plastic Plate delivered the highest levels of quality and collaboration.

INTERCHANGEABLE INSERTS WITH UNMISTAKABLE VALUE
By using Plastic Plate's unique removable tooling inserts approach, Ford was able to develop a multitude of uniquely defined and created textures for each trim décor component based on the same basic tooling mold. This allowed for multiple textures from the same component tool and a reduction of 85% in the amount of molds that would normally be required.

THE FREEDOM DESIGNERS DESIRE
Plastic Plate is continually raising the bar of excellence in the premium finish décor solutions industry, developing premium automotive interior trim with seemingly endless color options and the ability to create custom 3-D textures and unique surface finishes.
Interior Trim Systems

Explore What's Possible
Try our Finish Selector to experience Lacks finishes on a variety of materials
Finish Selector