Lacks and the Environment: It matters because it's home
To continually improve at minimizing the environmental impacts of our products and operations through pollution prevention and conservation of materials and natural resources, and to ensure a safe environment for our employees, customers, and community.

Our promise, Our responsibility
At Lacks, we take our responsibility to our employees, our partners and our community seriously. This means committing time and resources to continually updating our manufacturing processes to eliminate, recycle or remediate the materials we use in our facilities. From technological innovations to automation, Lacks is dedicated to ensuring we maintain a safe environment for our employees and a sustainable planet.
Proud to Say, Made in Michigan
We hunt. We fish. We spend our summers on our shimmering lakes and rivers. We live and work in Michigan. That's why our devotion to protecting our environment goes far beyond merely meeting requirements. Our team is committed to managing our operations in an environmentally sustainable manner. We look at the complete life cycle of our materials and resources to eliminate employee exposure and ensure that chemical or material waste streams that leave Lacks facilities are near zero and comply with all of our state and federal government emissions and discharge requirements.
Plan, Prepare, Prevent
Lacks works closely with MIOSHA, the Environmental Protection Agency (EPA) and the Michigan Department of Environment, Great Lakes, and Energy (EGLE) on a continual basis so that we meet or exceed available standards and recommendations. Our facilities are ISO 14001 Environmental Management Systems certified and are compliant with the Michigan Occupational Health and Safety Assessment Series 18001 standard.
Quality Measurement with Real-Time Monitoring
We continuously control, clean and monitor our air, soil, water and waste. Water filtration tests are conducted hourly. Facility air streams are exchanged four times per hour. No chemical waste stream leaves the facility to the environment. Our products are low-VOC, PFAS-free and CR6+-free when they leave the facility.
Facilities Controlled, Materials Managed
Managing our manufacturing process means we control the life cycle of our materials. From automated, closed-system facility processes, air and water remediation and dedicated recycling, our primary goals are to keep waste out of the landfill and return the air and water we use in pristine condition.
The water we use is treated and returned, and the only water loss is evaporative. We recover metal and chemical manufacturing resources in process. 98% of chrome and other metals used in the plating process are recycled on site at the plating facilities by using counter-current flow rinsing and evaporators to concentrate the chrome for reuse.
100% of all recycled chrome material is reused in other manufacturing applications.
Lacks Manufacturing Resource Life Cycle
Focused on the Future
Creating products for a sustainable tomorrow
What we make is as important as how we make it. Our innovative light-weighting and aerodynamic technologies help our partners improve fuel economy and reduce CO2. Using our Chromtec® wheel technology, Toyota engineers were able to reduce unsprung weight, improve fuel economy and eliminate an estimated 143,890 metric tons of CO2 over the life of the Sienna vehicle program, which earned Lacks runner-up for the Altair Enlighten Award. We are dedicated to developing environmentally conscious products in environmentally conscious ways for today, and tomorrow.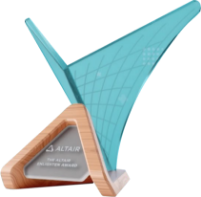 We Owe You Our Best
For Michigan and For Each Other
Lacks has succeeded not just because of our products and partners but because of our values. Trust, responsibility and quality cannot be compromised. Lacks is devoted to the effort to pioneer new practices that protect and preserve our environment. From advances in recycling and pollution prevention to improved methods of conserving natural resources, our drive for innovation permeates every facet of what we do.